John G. Bate, Artistic Musical Director
John has directed the Masterworks Choir and been Musical Director/Organist at St Peter's Methodist Church in Ocean City, NJ for over 35 years. From 1972 through 1987, John was Choirmaster and Organist at Grace Episcopal Church in Nyack, NY.
He holds a Bachelor's and Master's Degree from the Westminster Choir College in Princeton, NJ, studying organ and conducting under the artistic icons Eugene Roan and Joseph Flummerfelt. John has also directed the Eighth Street Players, a youth-led theatre group performing in the Ocean City area.

He enjoys performing concerts from time to time at Boardwalk Hall in Atlantic City on "the world's largest musical Instrument"!
John resides in Atlantic City with his husband, Chris.
Scott J Breiner, Organist/Accompanist
Scott has accompanied Masterworks Choir for over 25 years. He is Director of Music/organist at Grace Lutheran Church in Somers Point. At the age of 21, Scott joined Holy Trinity Lutheran Church in New York City and became a professional chorister, singing with the New York Choral Artists major works with the New York Philharmonic, at Carnegie Hall and "Live from Lincoln Center".
Scott studied organ with McNeil Robinson at Mannes College of Music in Manhattan and has worked with students at Rutgers University/Newark campus and locally. He has served as guest conductor, solo pianist and solo organist with the Ocean City Pops Orchestra and is currently Dean of the Southeast Jersey chapter of the American Guild of Organists.
In 2005, Scott co-founded and became director of the Cape Shore Chorale, a chorus of about 50 volunteer singers, based in Ocean City.
He, too, can be heard playing "the world's largest organ" at Boardwalk hall in Atlantic City, NJ.
Masterworks Choir has been welcomed by St Peter's to rehearse and perform in their music room and sanctuary for over 35 years.
The facility can accommodate the size of the choir as well as their audiences and orchestral performers. In addition to the favorability of the acoustics in the sanctuary, the pipe organ at St. Peter's provides the sound needed to support and accompany the choral works performed by the Choir. The organ , an Opus #9516, was built by M.P. Moller of Hagerstown, MD and installed in 1961.
In 1990, the original console was replaced by Moller. However, in 2002, the Church contracted with R.J. Brunner and Co. of Silver Spring, PA to rebuild the organ. Deterioration from years of dirt and salt air had damaged the leather components and pipes. A re-evaluation of the tonal makeup resulted in the addition of several "voices" and vast improvement in the clarity, volume and balance of sound.
At performances of choral pieces requiring orchestral enhancement beyond the organ's "voices", Masterworks enjoys a collaborative relationship with Bay Atlantic Symphony members, benefiting from their orchestral musical talents.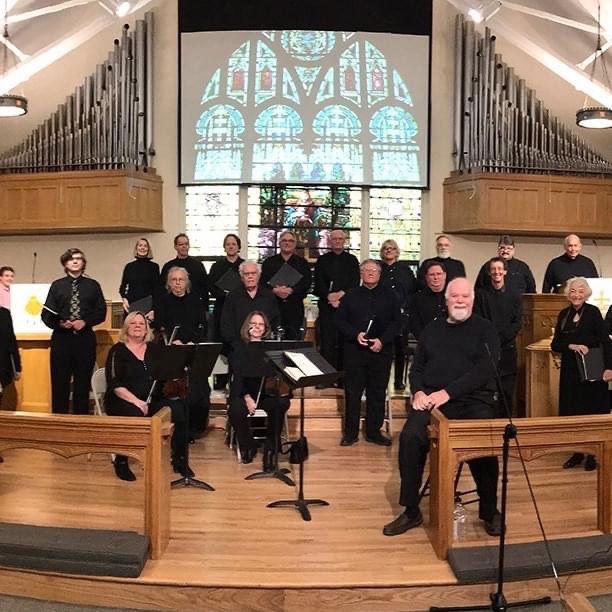 How to Find Us
St. Peter's United Methodist Church is located in the center of downtown Ocean City, New Jersey at the corner of 8th Street and Central Avenue.
Driving Directions
Upon entering Ocean City via Route 52 and the 9th Street Bridge, continue on 9th Street to Central Avenue and turn left. The church is at the intersection of 8th Street and Central Avenue.
Parking
Parking is available on Central Avenue in the lot next to the church. There is also a lot behind the church on Wesley Avenue between 7th and 8th Streets. Handicapped parking and elevators are accessible from the parking lot behind the church.
Messages sent through this site are subject to third party moderation. We always try to respond as soon as possible, but off-hours inquiries may take us a little longer to reply.
Our Mission: to encourage patronage of and participation in choral arts in Southern New Jersey.